IELTS CUE CARD: A TALL BUILDING THAT YOU LIKE OR DISLIKE IN YOUR CITY. Study the sample answer of this topic, specifically talking about a high-rise building that the speaker liked in his city. Learn how he developed his answers and how he applied topic vocabulary and collocations that helped him utilize his English communication skills better. 
Talking about a building is easy if you know how to provide descriptions of a building in an advanced and natural way. The sample answer below can surely help you get ideas on how to tell a story in a more creative way that can help you achieve a band 7.0 or even a band 9.0. 
PART 2
Describe a tall building in your city that you like or dislike
You should say:
Where it is
What it is used for
What it looks like
And explain why you like or dislike it
PREPARATION
When talking about buildings, you need to know some categories of buildings first. Are they industrial, commercial, or residential? When you categorize buildings, you will be able to focus more easily on what type of building you are going to talk about. When describing a tall building, make sure that your examiner can visualize how tall it is. What's that building made of? How tall is it? What's the function of that building then?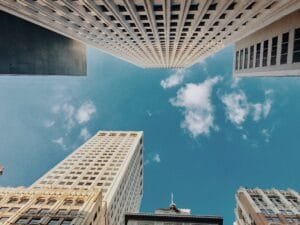 CATEGORIES OF BUILDINGS
Industrial
a. Heavy Industrial Buildings or Manufacturing Facilities = used to manufacture construction materials like cement, steel, and the like. Also, used by car manufacturing companies.
b. Cold Storage Buildings = for storing a large amount of foods and keep them refrigerated
c. Warehouses = used by companies for storing their goods 
Commercial
a. Hotel & Lodging
b. Shopping Malls/Centers
c. Office Buildings
Residential
a. Condominium / Apartment
b. Luxury Home or Estate
ADJ for BUILDINGS
High-rise, large, tall
Impressive, towering, attractive
Derelict (in poor condition & neglected), dilapidated (in a state of disrepair)
Modern, State-of-the-art, Ancient, Prehistoric 
VERBS TO USE  for BUILDINGS
Erect, build, put up
TYPES OF BUILDING MATERIALS
Aluminum, Brick, Concrete, Fiber cement, Glass, Steel
SAMPLE MONOLOGUE
There's one high-rise building that's recently erected in our city, which attracts a lot of visitors because of its unique design, it's called TOWER 101. It's actually a condominium and if I'm correct, there are 3,000 residential units all in all. I reckon its height is 250 meters and that's actually half the height of the Taipei 101 building in Taiwan. 
Well, what I like about this building is its design, it's minimalistic, there are only two colors – black and grey. The right side of the building is black and the left side is grey and the walls are made of glass. From afar, it looks like there are two buildings standing next to each other, but when you come closer you will realize that it's only one building standing. The grey color creates an illusion,  people from a distance think that there are two vertical buildings standing next to each other but actually, there's only one building standing. Well, I first knew this building just a couple of weeks ago because this building was heavily advertised on local TV. I was intrigued by its advertisement so I decided to pay a  visit. To be continued…
SO what other ideas can you add? If you're to complete this sample monologue, how will you fully develop this story? Be creative! Make use of your imaginative skills.
continuation…
When I got there, I talked to one of the real estate agents and I learned that that building is actually the tallest building not just in our city but in the entire state. I was very surprised to know that. She also said that the materials were imported from Europe. 
Not only that, she assured me that the building is earthquake-resistant, it wouldn't collapse even if the magnitude of the earthquake is really strong because she said that the building is equipped with some modern technology from Japan. Learning that made me like that building even more because you know safety is a priority.
But you know what,  what made me more surprised was when I learned that one of the designers of this building was my former classmate in high school. I was at a loss for words when I knew that. I just couldn't believe it.
AVOID TAKING THE EXAM, AGAIN & AGAIN, PREPARE STRATEGICALLY!
NO IDEAS FOR PART 2? MY EBOOK CAN HELP YOU!
If you are busy and do not have so much time preparing for the recent IELTS Speaking CUE CARDS, then GET my ebook for the recent cue cards. The things that you can get from my ebook are topic ideas, topic vocabulary, collocations, and more importantly the interactive sample monologues, just like what you see on this post. 
The interactive sample monologues are 90% complete and the 10% should come from you. I design my ebook this way so that you can interact and develop your creativity in storytelling, which is needed to help you develop an organized story and maximize the two-minute time given to you by your examiner.
The ebook for the recent cue cards is only US$15. If you want to buy this ebook, just send an email at [email protected].
The EBOOK FOR CUE CARDS (MAY – AUG) contains: 
1. DESCRIBE SOMETHING THAT YOU SAW ON SOCIAL MEDIA THAT'S INTERESTING
2. DESCRIBE AN ART OR CRAFT ACTIVITY THAT YOU HAD IN SCHOOL
3. DESCRIBE A PIECE OF EQUIPMENT THAT IS IMPORTANT IN YOUR HOUSE
4. DESCRIBE A TIME YOU TRIED DOING SOMETHING BUT WEREN'T SUCCESSFUL
5. DESCRIBE A TIME YOU BOUGHT SOMETHING FROM A STREET MARKET
6. DESCRIBE YOUR FAVORITE MOVIE OR A MOVIE THAT YOU LIKE
7. DESCRIBE A COMPANY THAT HIRES/EMPLOYS A LOT OF PEOPLE
8. DESCRIBE A QUIET PLACE YOU LIKE TO SPEND YOUR TIME IN
9. DESCRIBE SOMEONE WHO IS OLDER THAN YOU THAT YOU ADMIRE
10. DESCRIBE A TIME WHEN YOU HELPED YOUR FRIEND
11. DESCRIBE A TIME WHEN YOU SHARED SOMETHING WITH SOMEONE OR OTHER PEOPLE
12. DESCRIBE A LEISURE ACTIVITY THAT YOU WANT TO TRY DOING NEAR THE SEA OR IN THE SEA
13. DESCRIBE AN ARGUMENT THAT YOUR FRIENDS HAD
14. DESCRIBE YOUR FAVORITE SINGER OR ACTOR
15. DESCRIBE A PLAN IN YOUR LIFE THAT IS NOT RELATED TO YOUR WORK OR STUDY
16. DESCRIBE AN ARTICLE ON HEALTH THAT YOU READ IN A MAGAZINE OR ON THE INTERNET
17. DESCRIBE A TOWN OR CITY THAT YOU ENJOY SPENDING YOUR TIME IN
18. DESCRIBE AN OCCASION WHEN MANY PEOPLE WERE SMILING
19. DESCRIBE A TALL BUILDING
20. DESCRIBE A NATURAL TALENT THAT YOU WANT TO IMPROVE
21. DESCRIBE A PIECE OF LOCAL NEWS THAT PEOPLE ARE INTERESTED IN
22. DESCRIBE A TOWN OR CITY THAT YOU WOULD LIKE TO LIVE IN IN THE FUTURE
23. DESCRIBE A LAW ON ENVIRONMENTAL PROTECTION
24. DESCRIBE A PUZZLE THAT YOU HAVE PLAYED
25. DESCRIBE A TIME WHEN YOU WEREN'T ALLOWED TO USE YOUR PHONE
BE READY! SPEAK NATURALLY, CONFIDENTLY, & CLEARLY WITH YOUR EXAMINER!
Study how to answer the recent cue card about A HEALTH ARTICLE THAT YOU READ IN A MAGAZINE OR ONLINE https://ieltsdragon.com/ielts-an-article-on-health-you-read-in-magazines-or-the-internet/part-2/
Meaning of Words and Phrases Sources: 1, 2
Do you have any questions or comments? Please leave them below.