IELTS Speaking Part 1 Weather Recent Questions And Answers: Weather types include hot during summertime, cool during autumn, freezing cold during wintertime, and warm during springtime.
This is an easy topic because this is what we experience day to day. The best way to answer questions about the weather is to describe the weather and talk about your experiences in each weather or season.
Get ideas in this post, practice, and create your own answers to the questions so that you will be able to get a band 7.0+.     
PART 1
WEATHER
ANSWERS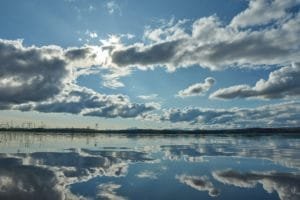 Do you prefer cold or hot weather?  
(Answer 1)  
I absolutely prefer cold weather to hot weather because it's more comfortable. I hate hot weather because I sweat a lot and I feel discomfort that I can't work well. Besides, I easily get irritated and get headaches due to heat intensity. And because of that, I don't like summer days, at all.   
(Answer 2)  
That's a very easy question – I prefer hot weather to cold weather. I love hot weather because I enjoy sunny days. It actually brightens my day and it makes me so inspired to do some water activities such as swimming or snorkeling. Well, I tried living in a country where cold weather is extreme and I just loathed it because I felt depressed.     
What's the weather like in the place where you live?  
(Answer 1)  
Well, I'm lucky that our state doesn't have extreme weather conditions compared to other states where people can experience extreme cold and hot weather. The weather condition in our place is just mild. We have bearable (tolerable) cold and hot days and because of that, a lot of local tourists visit our place when they feel the discomfort of the weather that they have in their own states.   
(Answer 2)  
Since I'm living in a  tropical country, most of the time our weather is hot but it's actually hotter during summertime. We sometimes reach 41-42 degrees Celsius and honestly, that is extremely hot in my opinion. Well, I love summertime but I'm not a fan of (not liking something much) 42 degrees Celsius. That for me is unbearable and I normally just stay at home when the weather is that hot.   
Do you check the weather forecast before going out?/Are you in the habit of checking the weather forecast?
(Answer 1)  
Yes, always! That's simply because I want to wear something that suits best the weather condition of the day and I need to be aware if there's a storm coming so I can be prepared. You know, it's better to prepare than to feel sorry and it doesn't cost anything to check the weather before leaving the house, anyway.   
(Answer 2)  
Yes, I do but not regularly since I'm living in a tropical country. Well, most of the time, the weather condition here doesn't change a lot. We have dry and rainy seasons so we can expect what the weather is like almost every single day. It doesn't change that much.   
Would you like to visit other cities that have different climates from where you live?
(Answer 1)
Of course! Who wouldn't want to? (rhetorical question – to add dramatic effect) It's exciting to experience freezing temperatures in winter and play in the snow in a different city. Also, enjoying the cool breeze that autumn brings while being surrounded (be all around) by the beauty of maple trees with red, yellow, or orange leaves is a great experience. So, who wouldn't want to experience any of these?
(Answer 2)
Well, this country is tropical (hot and humid) so the temperature of almost all cities is just the same. But if we talk about visiting another country to experience the four seasons, yes, I would love to. In fact, I make sure to visit another country every year to experience either winter or autumn. Doing so helps me forget about my work as I get to relax. 
What do you think are the effects of climate change in recent years?  
(Answer 1)  
I believe extreme weather conditions are the effects of climate change. I notice that during winter time, the weather is extremely cold that some countries experience a negative 20 degrees Celsius or even more than that, and when it's summertime, a heat wave is inevitable in some parts of the world. Well, this is the price that we have to pay (the unpleasant or difficult aspect that one must face) for not taking care of our planet.   
(Answer 2)  
I really think the natural disasters that happen from time to time in different parts of the world are the common effects of climate change in recent years. Different countries experience different calamities such as hurricanes, typhoons, forest fires, drought, floods, and the like (and similar things). Although the world experiences any of these, world leaders don't make any serious effort to address the issue of climate change. All of them are just paying lip service (to express support for something without taking any significant action) to the world.    
Which do you like better, dry or wet weather?  
I prefer the former (refers to the first mentioned) since I can be very productive (fruitful). When the sun's up, I'm usually loaded (filled) with so much energy. Also, I'm a person whose mood is greatly influenced by the weather, so if it's dry and sunny I can work more efficiently and happily, however, if it's rainy I can be as lazy as a sloth (a sloth refers to a mammal that moves very slowly).    
What kind of weather do you like the most?    
(Answer 1)  
Well as I've just said, I like dry or sunny weather. There are no other types of weather that can suffice (be sufficient; be enough; do; serve) the happiness that I feel on sunny days, as I can do various things such as running errands (doing a lot of things at a time: going out to buy something, going to the bank, etc.), doing the laundry, taking a walk in the park, and swimming.    
(Answer 2)  
Without a doubt (indisputably), it's summer! The ambiance (atmosphere) of summertime is just so different – people's faces are painted with happiness. That's because they can enjoy staying outside and doing some outdoor activities with family and friends. Actually, I dream of living in tropical (having warm or humid weather) countries since those types of countries have the happiest people. I imagine how beautiful their life is.    
Can you tell me the typical weather in your hometown?  
Well, my hometown is no different from any other place in my country. We do have four seasons. When it's winter, we experience below-zero degrees (a temperature that is negative). When it's autumn or spring, we have chilly and rainy days, and when it's summer, our temperature reaches 38 degrees Celsius. The temperature in summer is just manageable (doable) but not in winter.        
DON'T MISS studying the recent IELTS Speaking Part 1 topic about
GET THE LATEST
REVIEWERS FOR PART 2 &
PART 3 Here!
Meaning of Words and Phrases Sources: Collins, Macmillan, Cambridge, Oxford
If you want to support my work, you can buy me A CUP OF COFFEE here:
https://www.buymeacoffee.com/ieltsdragon
Thank you so much!