IELTS Writing Task 2: Some experts think that all students should learn musical instruments. To what extent do you agree or disagree?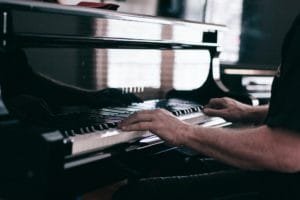 SAMPLE ESSAY
It is believed by some professionals that every student should learn how to play musical instruments. In my opinion, I disagree that all students should be required to learn musical instruments as it would be problematic, I believe students should be given the freedom to choose a subject that would interest them.    
Requiring all students to learn how to play any musical instrument in schools would be disadvantageous to those students whose interest is not in music. Those students who are forced to learn about it, despite not being interested in it, would only waste their teacher's time and their time since they do not have any desire in learning it. Thus (as a result), they both become unproductive (not effective in bringing something about).     
In addition, when they are forced to study about playing any musical instrument along (at the same time as; together with) with their classmates who can easily execute it, they would only feel inferior (of little importance or value). They would think that they are not talented or are not capable of achieving things, or worse, they would think that they are witless (stupid). This, then, makes them lose the motivation in learning.    
I think the best thing that experts or people in the academe (a place of instruction) should do is to assess the interests of students and guide them in choosing the type of subject or activity which can help them develop their skills better. Moreover, by giving them the freedom to choose the type of subject to study, learning would become easy and natural.  
In conclusion, experts must not make all students learn how to play musical instruments if students are simply not interested in it, instead, they should allow students to exercise their right to focus on learning a subject or an activity that would help them utilize or develop their skills fully.    
Get ideas on how to talk about the
recent IELTS Speaking Part 1 topic
about RIDING A BIKE.
PASS THE TEST LIKE MANY
OTHER STUDENTS!!!
AVAIL THE LATEST
REVIEWERS FOR PART 2 &
PART 3 Here!
Meaning of Words and Phrases Sources: Collins, Macmillan, Cambridge, Oxford
If you want to support my work, you can buy me A CUP OF COFFEE here:
https://www.buymeacoffee.com/ieltsdragon
Thank you so much!